About ATT South West
A.T.T South West is part of a small property development company in Cornwall. We therefore understand the requirments for good workmanship and site practice to comply with building regulations and to produce quality dwellings.
Our aim is to offer a profesional and personal service in order to ensure compliance with part L1A/B Building regs.
Testing will be carried out by a BINDT registered tester in accordance with ATTMA TSI 2010.
SAP 2009 assesments will be carried out by an NHER accredited energy assessor
All equpment used is specificaly designed for the purpose and is calibrated by a UKAS certified laboratory.
We carry professional indemnity and public liability insurance and are CSCS card holders.
BINDT Registered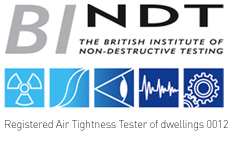 NHER Registered
What Building Regs Say…
A local authority is autherised to accept, as evidence that the requirements of regulation 17C have been satisfied, a certificate to that effect by an energy assessor who is accredited to produce such certificates for that category of building. A local authority is authorised to accept certification from a person who is registered with The British Institue of Non-destructive Testing as compliance with regulation 20B Air permeability and pressure testing.