Contact Us
Get in touch with us. Fill out this simple form and we'll get back to you as soon as possible.
[contact-form 1 "Contact form 1"]
Our address
ATT SOUTH WEST, Gorsey Leaze,
Perran Downs, Goldsithney
Penzance, Cornwall, TR20 9HJ
t. 08456 035 532 | m. 07890 895671
BINDT Registered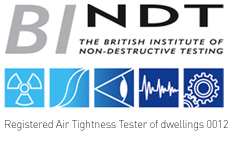 NHER Registered
What Building Regs Say…
Approved document LIA 2006 requires that all new dwellings have an acceptable CO2 emmisions rate.This is known as the Dwelling Carbon Dioxide Emissions Rate or DER, this is the actual leakage of the building. The Target Carbon Dioxide Emisions rate or TER is determend by the designer using a SAP calculation, and must be higher than the DER test result.