SAP Assessment
Standard Assessment Procedure or SAP calculations are required to prove compliance with Part L Building Regulations for all new build dwellings, conversions, refurbishments and extensions with glazed areas greater than 25% of floor area.
Stage 1 – Design Stage Submission
A full SAP assessment to calculate the Co2 emission rating for the proposed dwelling; it is this rating or Predicted Energy Assessment (PEA) along with a Building Regulations Compliance report and SAP worksheet that is submitted to Building Control for proof of compliance. The PEA is produced from the design specification, this enables recommendations to be made by the assessor should the proposed specification fail to comply with building regulations.
Stage 2 – As Built Stage
On completion the On Construction Energy Performance Certificate is produced. This process checks the dwelling as built to determine its energy rating, in most cases an Air Permeability Test will be required to prove the building has achieved or bettered the Design Permeability Rate used in the design final submission. Any deviation from the original specification must be documented. The OCEPC and Compliance reports are now submitted to Building Control.


IMPORTANT NOTE
It is strongly recommended that ANY deviation from the approved specification is anticipated it be checked by the SAP assessor to ensure compliance.
SAP Assessments must be carried out by an accredited SAP or OCDEA assessor to enable building control to accept building regulation submissions.
ATT South West provide a competitive, professional service to produce
U-value calculations for all building elements
SAP calculations at Design Stage and As Built Stage
All necessary reports for Building Control Submission
Air Permeability Test reports
Free recommendations throughout SAP assessment to achieve compliance
Free advice to achieve desired Air Permeability results
BINDT Registered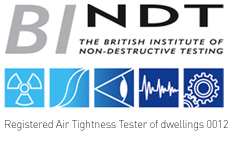 NHER Registered
What Building Regs Say…
As required by regulations 17C & 20D, before work starts a builder must obtain SAP 2009 calculations to demonstrate that DER of the dwelling as designed is not Greater than the TER. This Design Stage assessment,PEA and the related specification must be submitted to Building Control. On completion of works the builder must give the local authority a notice which specifies the target CO2 emission rate,The calculated CO2 emission rate for the dwelling as constructed, confirmation that the dwelling was constructed to the original specification and if not a list of of changes made and an On Construction EPC.